Inside Waterscape: A look at the Amenities
Today, we're excited to highlight one of our most popular amenities, the Waters edge Amenity Center within the Huffines Signature Community of Waterscape Built with friendly interaction in mind, the amenity center is a refreshing departure from ordinary living offering a wide range of activities for North Texas residents of all ages. From indoor and outdoor event spaces, playscapes to sand volleyball games, there's something for everyone to enjoy…a place where neighbors come together!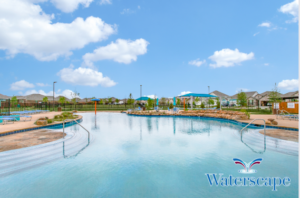 Waters Edge Amenity Center: The Waters Edge Amenity Center features relaxed seating, a catering kitchen and a spacious outdoor patio offering homeowners a great place for family gatherings and community events that can easily host 100 people. This versatile space is great for family gatherings, birthday parties, and community celebrations.
Resort Pool: Take a dip in the resort-style pool area with two separate pools, splash pad, shaded event pavilion and picnic area. The pavilion has lights, outdoor grills, and versatile space for birthday parties or just a popular spot for families to cool off during the hot summer months.
Dog Park: Furry friends are always welcome at Waterscape, and the dog park is the perfect place for them to play and socialize with other dogs in the community. The dog park has plenty of space to run around and play, and it's a great way for pet owners to meet and connect with other residents in the community.
Playfield and Sand Volleyball: Whether you're looking to kick around a soccer ball or spike a volleyball, the playfield and sand volleyball court offer plenty of space for residents to get active and have fun.
Hammock Park: Huffines communities wanted to do something unique, and the hammock park was perfect. This tranquil spot is the perfect place to relax and enjoy the peaceful surroundings. The park features several hammocks strung up between trees, creating a cozy spot to read, nap, or simply unwind.
At Waterscape, we're committed to providing our Royse city residents with the best possible amenities and community features at reasonable HOA costs. We hope you've enjoyed this glimpse into the Waterscape Amenity Center, and we invite you to come and experience it for yourself. Schedule a tour today of our new homes from some of the top builders in North Texas.
Tags: