Summer Fun at Waterscape: Our Favorite Outdoor Amenities
If you're looking for a Master Planned Community that offers the perfect blend of nature and outdoor amenities, look no further than Waterscape in Royse City, Texas. As a Waterscape resident, you'll experience the charms of a nature get-away, with help from plenty of terrific outdoor amenities. Here are some of our favorite outdoor amenities at Waterscape:
Waters Edge Amenity Center: The Waters Edge Amenity Center is the heart of the community and offers a variety of outdoor amenities for residents to enjoy. From the event pavilion to the large resort pool and lap pool, there's something for everyone. The dog park is perfect for furry friends, while the playfield and sand volleyball court are great for kids and adults alike. The indoor clubhouse is perfect for hosting events or relaxing with friends.
Fully Stocked Pond: If you enjoy fishing, you'll love the fully stocked pond at Waterscape. It's the perfect spot to spend a lazy afternoon with your family and friends, casting a line and enjoying the beautiful scenery.
Walking and Biking Trails: Waterscape offers 8 to 10 ft wide walking and biking trails, perfect for exploring the community and enjoying the great outdoors. Whether you're looking for a leisurely stroll or a challenging bike ride, there's a trail for you.
Community Events: Waterscape hosts a variety of community events throughout the year, from pool parties to movie nights. It's a great way to meet your neighbors and enjoy all that the community has to offer.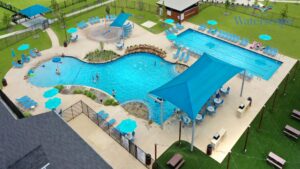 At Waterscape, we believe that outdoor living is an essential part of the community experience. That's why we offer a variety of outdoor amenities to help you make the most of your time here. Whether you're seeking a gathering space like the event pavilion, looking to cool off in the refreshing resort pool, or wanting to enjoy a game of volleyball, there's something for everyone. Our builders include Bloomfield, Highland, HistoryMaker, Impression, St. Vincent, and Tripointe homes. Check out our available homes today!!